As you probably know, "In a hole in the ground there lived a hobbit." Once Tolkien had written this sentence on a blank examination paper he was marking, he decided that he had to find out what sort of hole he lived in, why he lived in a hole, etc. The result was a tale that was later published in 1937 with immediate success. It tells the story of how Bilbo Baggins, a respectable hobbit, had an adventure and found himself doing and saying things altogether unexpected. This is quite unusual, since respectable hobbits never have adventures or do anything unexpected. And a big adventure it is: he'll have to deal with trolls, goblins, the Gollum and even a fearsome dragon; he'll also find a certain ring with amazing powers. Fortunately he'll have the invaluable help of Gandalf the wizard and a group of dwarves with funny names.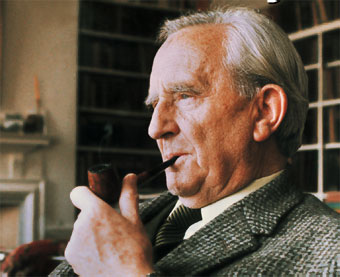 JRR Tolkien
What do hobbits look like? They are a little people, about half our height, and have no beards. They are inclined to be fat in the stomach; they dress in bright colors (chiefly green and yellow); wear no shoes, because their feet grow natural leathery soles and thick brown hair; have good-natured faces, and laugh deep fruity laughs (especially after dinner, which they have twice a day when they can get it).
The Hobbit is an utterly enjoyable story with lots of action and humour. It's like a fairy tale for smart children: the heroes are not quite perfect - their motivations not quite heroic; they are affected by cold weather, lack of food and difficulties; the outcome is a lesson in geopolitics. Bilbo gradually develops self-confidence, courage and good judgement; at the end he'll be a stronger, better person.
The Hobbit is soon to be added to our library. Meanwhile you might want to see Peter Jackson's first part of a trilogy of films, which opens worldwide today: I hope they're as good as the book!